FLASHBACK

: Republished from 2017

HE'S already known around the world as a master of Ducati improvement engineering. And now Brook Henry, the man who gave us the Ducati-powered but custom-framed Vee Two Alchemy more than 25 years ago, has built his own motor.


And it's magnificent.


Not only that, but Brook and his partner in crime — Andrew (son of bike journo Sir Alan) Cathcart — will build you an entire bike, road legal if you like or track-ready if you prefer, that merges 1973 Ducati charm and 1978 Ducati legend with 2017 metallurgy and technology and Brook-and-Andrew genius.

From their own workshop in paradise in south western Western Australia, the pair has planned and is executing a marketing assault on America. They took their new bike onto U.S. TV with comedian, personality and bike-and-car lover Jay Leno, who said their creation was like a super-hero comic version of his own 1984 Ducati Mike Hailwood Replica – and a bargain at the price of $US59,000 (around $75,000 Aussie).
We'll show you Jay Leno's TV show a little later, but first let's back up.
Ducati began development of their twin-cylinder engine in 1970 when Fabio Taglioni applied his desmodromic valve system to a 90-degree twin cylinder layout. The result was an almost instant success. It only took four months to move from bright idea to a running engine. Just 18 months later, the green-framed 750 Ducati won the inaugural Imola 200, Europe's answer to the Daytona 200. The V-twin Ducati was instantly inducted into moto-history.
Taglioni's engine was a brilliant design. The bevel-drive desmo' valve set-up opens and then closes the valves mechanically, eliminating the need for valve springs and so-called valve float at high revs. Mechanical actuation also allows more aggressive camshaft profiles. The light and narrow layout of the V-twin, with a top speed of 250 kmh and a dollop of Italian 'moto-sport passione' resulted in a potent racing machine. The die was cast — but there's always room for improvement.
Brook held a dream to build his own bevel-drive V-twin
Brook Henry is a toolmaker by trade and an engineer by reputation. He is a self-described "lover of horsepower" and has long held a dream of creating his own bevel-drive, V-twin engine. The seed of that dream was planted when, as a young man growing up in New Zealand, Brook used to un-crate new Ducati motorcycles in his brother's dealership. For a time, Brook un-crated every new bevel-drive Ducati that came into New Zealand.
Wanderlust struck in the 1970s and Brook found himself traveling to Europe and the UK before settling in Perth, Western Australia. In 1978, he co-founded an engineering business. Aside from general engineering, Brook used his spare time fettling and racing the venerable Ducati V-twin, starting with a 1978 bevel drive 900. Brook's special interest quickly turned professional and Webrook Engineering gained a reputation for manufacturing improved big-end assemblies, gears and gearboxes for Ducati engines. The Ducati work was so successful that the business changed focus and, in 1979, Vee Two was born.
The ultimate expression of classic Vee Two was the Alchemy, a synthesis of a bevel-drive Ducati engine and Vee Two's own frame, with its distinctive single-shock suspension on the left of the machine. One hundred Alchemys were built and all were capable of full street registration, although many of them never saw the road. One bike that did see the road is Nick Gye's bright red Alchemy (pictured). In 1990 it was the first one registered and has remained in Nick's ownership ever since.
Between 1992 and 1998, at the height of Vee Two's original incarnation, they took out a host of world championship wins, including first place in the 1996 Daytona Battle of the Twins and 1995 Formula 750 at Daytona.
In 1994, Vee Two took another project bike, their Paul Smart 750 replica, to Bathurst where it was ridden to victory in the Post Classic TT class by British motorcycle journalist, racer and Knight of the Realm, Sir Alan Cathcart.
Alan recognised that Brook was a master — and just the man to rebuild his recently blown-up green-frame 750SS. A friendship developed and Alan was invited to race the Paul Smart replica. Following Alan's win in the Bathurst event he handed his green-frame over to Vee Two for the full treatment. The result was a huge success with that bike winning British and European events and Battle of the Twins championships as well as races in Japan.
In 2010 Brook set about realising his dream of building his own engine. The result is the Vee Two Ritorno which was unveiled at the 2015 Broadford Bike Bonzanza in Victoria. Ritorno is the Italian word for 'comeback' and recognises Mike Hailwood's historic Isle of Man TT comeback race win in 1978. Equally, 'ritorno' could be applied to Brook himself who made his own comeback to motorcycle development, engineering and production after a short retirement to the south west of Western Australia.
A major coup towards achieving his goal was Vee Two securing the rights to an officially signed-out set of Ducati factory drawings and the original moulds of the planned (but never released) production version of the 1978 Hailwood NCR Factory Ducati racing engine. (When Ducati celebrated Mike's win by releasing the Mike Hailwood Replica, the bikes were fitted with off-the-shelf engines, not the NCR-derived racing item. In fact, fewer than 10 NCR engines were ever built. They are recognised by the spin-on oil filter at the bottom left of the crankcase.)
Brook has been joined by Alan's son, Andrew, himself no slouch in the engineering department. Andrew studied Motorsport Engineering at Coventry University during which time he teamed up with Renault Formula 1 and Petronas Superbike racing teams. After Andrew graduated he travelled to the US and joined Triumph California's land speed record team – building machines that set several records at Bonneville Speedway. In 2012 Brook asked Andrew to join him in developing the V-twin at the home of Vee Two in Nannup: official population 501, on the banks of the Blackwood River in tall timber country in Western Australia.
How does this engine not tear itself apart?
The 1978 championship winning engine is the canvas from which Brook and Andrew created the Ritorno — a modern, high-tech, high-horsepower engine. The design incorporates Vee Two's own camshafts, twin-plug 'bathtub' chambered heads, con-rods and assorted other speciality items. The Ritorno engine has almost double the power of the original bevel-drive engine to 122 horsepower, which begs the question: How does this engine not tear itself apart?
Part of the answer lies in modern metallurgy. High-strength, heat-treated aluminium crankcases are sandcast in a Melbourne foundry. They arrive at the Vee Two factory as little more than great globs of alloy, and that's where the magic starts. An array of computer numerical controlled (CNC) mills and lathes are employed to shape the raw castings into functional engine cases that, thanks to modern materials and techniques (and perhaps a little alchemy), are far superior to their forebears.
Vee Two barrel castings also arrive in a rough and raw form, as do the various magnesium cases and covers that adorn the modern engine but resemble the original items. The barrels are machined in-house then sent to the US for the internal surface to be treated to a nickel-carbide coating, better known as Nikasil. Nikasil greatly reduces friction which, in turn, increases power and longevity.
When I questioned Brook's ability to double the power output of the Ducati engine, his answer was modest.
"It's not that hard," he said.
"Firstly, the barrel has to seal and the rings have to seal and that's a major issue on an engine like that; on any older-style engine.
"The cylinder head needs to use the capacity of the engine to get enough air in and out, at the right time, and that has developed in quantum leaps in the past 25 years."
Brook has contributed to those quantum leaps. The heads and barrels are his design, a product of more than 30 years of experimentation and development. He has narrowed the valve angle to allow gases to flow better and developed his 'bathtub' combustion chamber that is chaff for his love of horsepower, all the while maintaining the look and basic principles of the bevel-drive engine.
A lot of Brook's success and knowledge has been garnered from working with various grades of metal and knowing what works where. Vee Two sources metals from Spain, Brazil, Austria and the UK.
For example, a manufacturer in the UK has developed a metal specifically for the valve guides on air-cooled motorcycle engines. It's only made in the UK, it is very expensive but thankfully only a small amount is needed in each head built by Vee Two. Suddenly, the $38,000 price tag for a new Ritorno engine is starting to sound like good value for money.
Brook: "This is not an old engine. This is current technology with modern cam design and port design. There's titanium all through it. We've totally redesigned the internal shape of the head, the combustion chamber, the tops of the pistons, the valve angles, big ends, oil pump and gearbox. Everything inside the engine is new generation, but from the outside it looks identical to what Hailwood used to win the Isle of Man in 1978."
The Imola Evo is a nod to the 1974 green-frame SS
In a similar fashion to Vee Two of the nineties, Brook and Andrew haven't stopped at the engine; they have fashioned a complete, road-going motorcycle. The Vee Two Imola Evo is a nod to the original Greenframe Imola legend – the famous Imola Replica Ducati 750SS which was built only in 1974. The green-frame 750SS has been climbing in value with good examples now commanding close to $300,000.
The Vee Two Imola Evo is powered by a Ritorno motor in a modified 1981 Ducati frame which allows for ease of registration. This is the bike that Brook and Andrew took to the US to visit Jay Leno on TV. (Incidentally, Brook and Andrew were quite impressed with Jay Leno's confidence and competence in handling their bike. Clearly the wealthy collector spends a great deal of time riding his motorcycles.)
Back in Australia, plans are underway to produce an NCR replica that will be even more faithful to the original machine than Ducati's mass-produced 900 and 1000 Hailwood replicas.
Andrew: "I know the Hailwood bike well and, with Steve Wynne giving my Dad exclusive access to the bike before it went off to the collector, I have the most comprehensive set of photographs available of the bike. I used those to scale the bodywork, and we've made tooling to replicate the Hailwood bodywork to be exactly correct. The fairings are now available to anyone who wants to purchase one."
Andrew says the Vee Two NCR replica will race at the Isle of Man next year, which will mark the 40th anniversary of Hailwood's legendary ride.
Vee Two is planning to soon launch an online parts supply business. All the Vee Two engine parts will be available to a world-wide market, and that is where the company is heading.
Andrew is preparing Vee Two's move into the US where he will set up a commercial distribution base marketing the Australian-made products. Brook will remain in Western Australia where he will continue his role in research and development.
So, just to recap, here we have a Kiwi and an Englishman, living in country Western Australia, developing and building world-class motorcycles and components. I asked why take it to the US, as opposed, for instance, the UK or Europe?
Brook: "This is arguably one of the biggest things that's happened in classic motorcycle racing, especially in America, in a long time."
Brook is referring to the eligibility of the new engine for classic motorcycle competition and will likely continue Vee Two's rich racing heritage, in both classic and modern motorcycle racing classes, such as the successes enjoyed by the small Australian manufacturer in Daytona in the nineties.
"This is an international concept. Of course we'll continue to look after our Australian customers but our market is export; that's what we're thinking."
Aside from racing, Andrew reminds us middle-age riders there is a "resurgence of people from my generation, and younger, into the classic bike culture."
A lot of these people are looking for a "turn-key" engine they can drop into a frame and, such is the versatility of this new engine, they can ride, race or simply show the bike.
Jay Leno says the Vee Two Imola Evo is a bike you can put in your living room and then just simply stare at it.
"Your eye falls to all the little details," he says.
But this bike was born to run. The sound of the bevel-drive engine is a delight. A discordant mixture of noises generated by the engine components combine with the sweet note of the 270/450-degree firing pattern of the V-twin to remind us of the heady days of Ducati at Imola and the Isle of Man.
But they never had 122 horses at Imola.
We are in debt to Brook and Andrew's dedication to keeping the bevel-drive twin engine alive and stronger than ever. And I could well end up in debt if my attraction to the Imola Evo continues to flourish.
Mike Hailwood, looking down from racer Heaven, must be delighted.
You can watch that Jay Leno TV show with Brook, Andrew and the Vee Two Imola Evo here. Jay even takes the bike for a spin.
You can see an NCR Replica for sale here.
And you can research going to the Isle of Man for next year's Hailwood anniversary, with your own bike, here.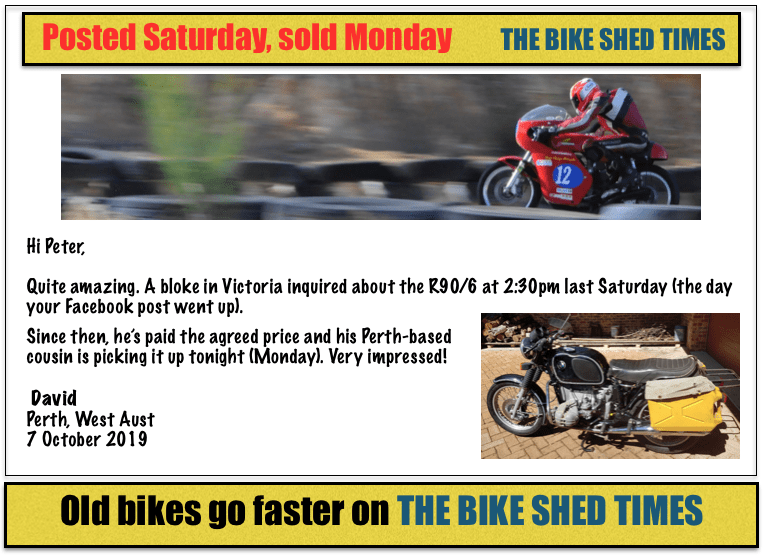 Also see:




Something we prepared earlier: New Zealand's DIY world-beater: the Britten V1000